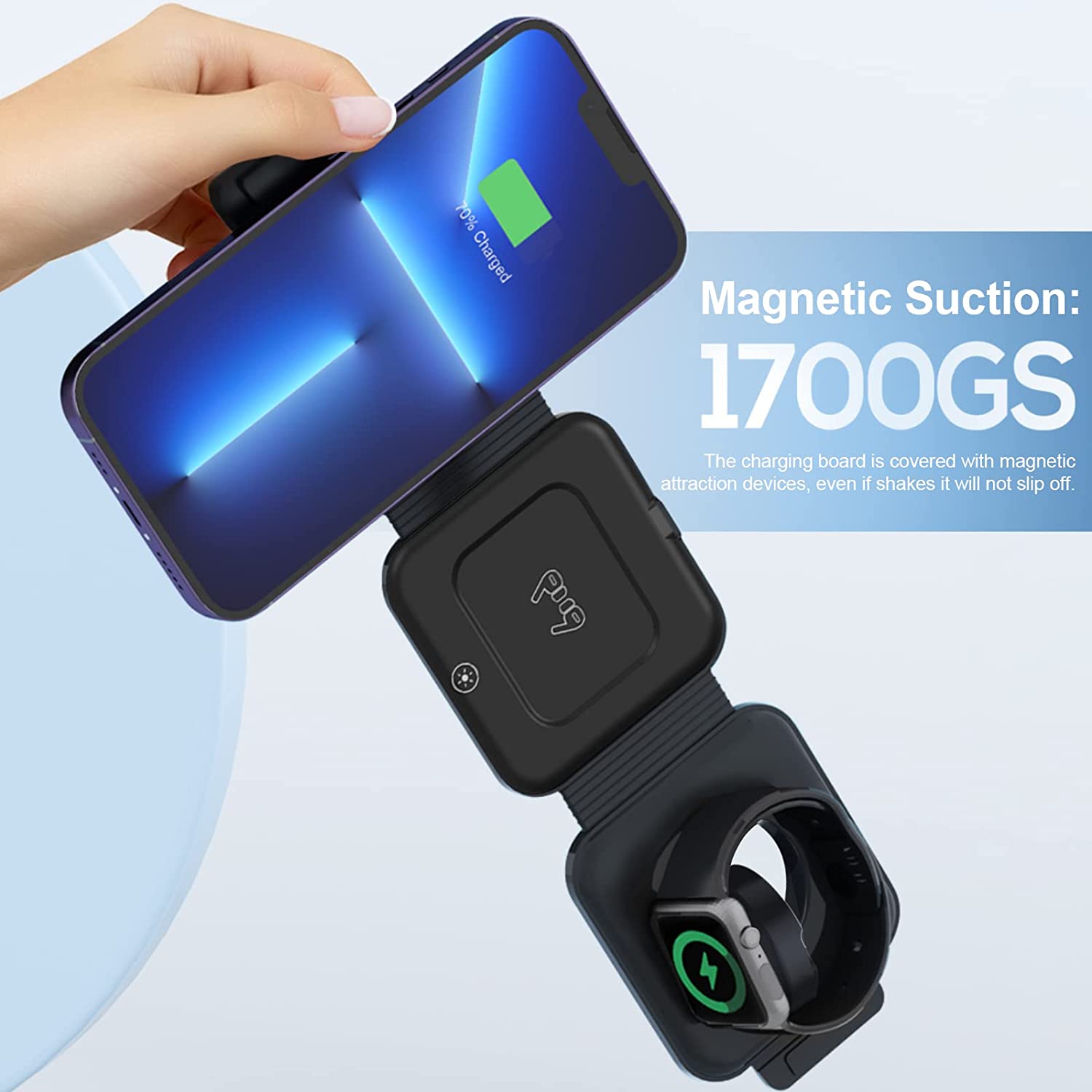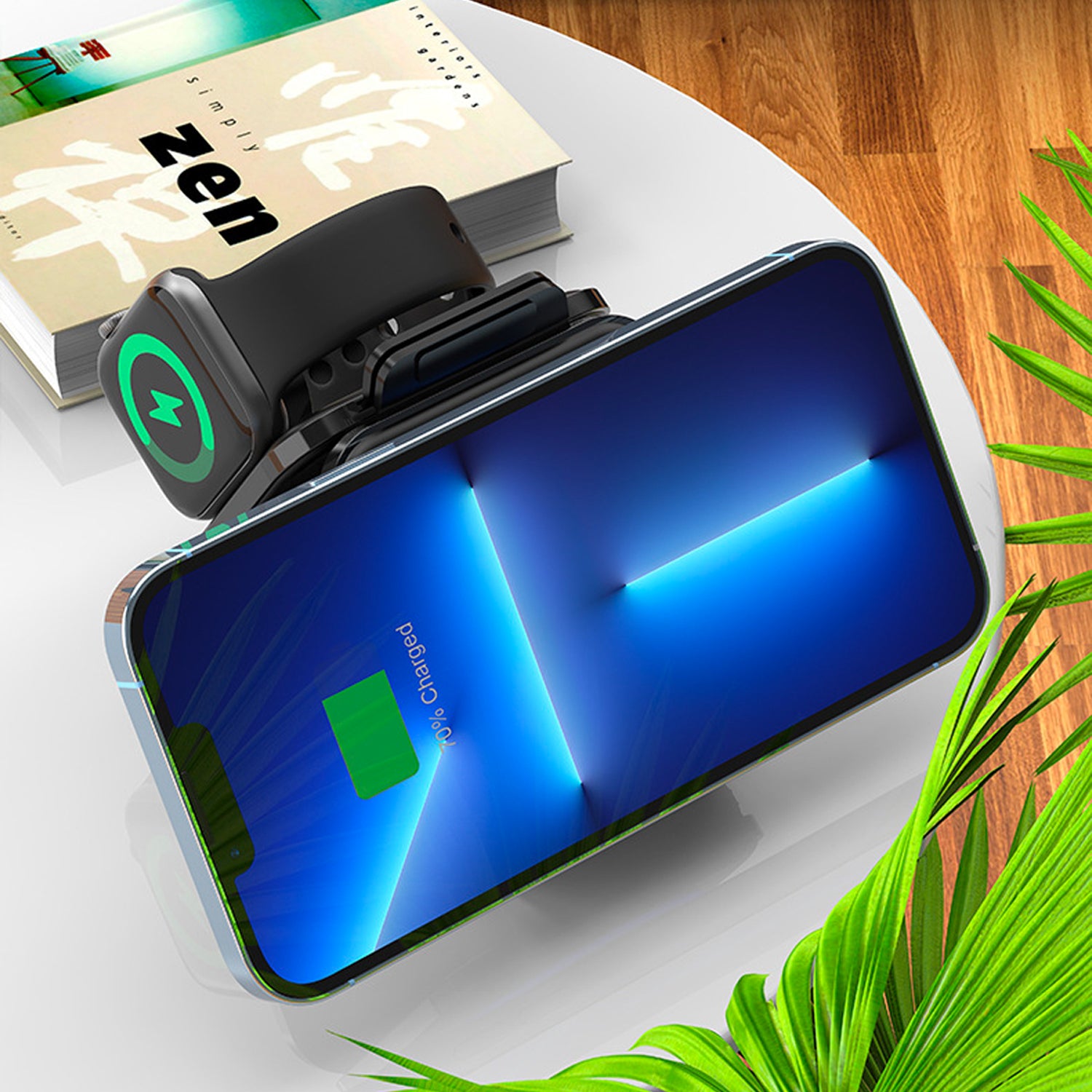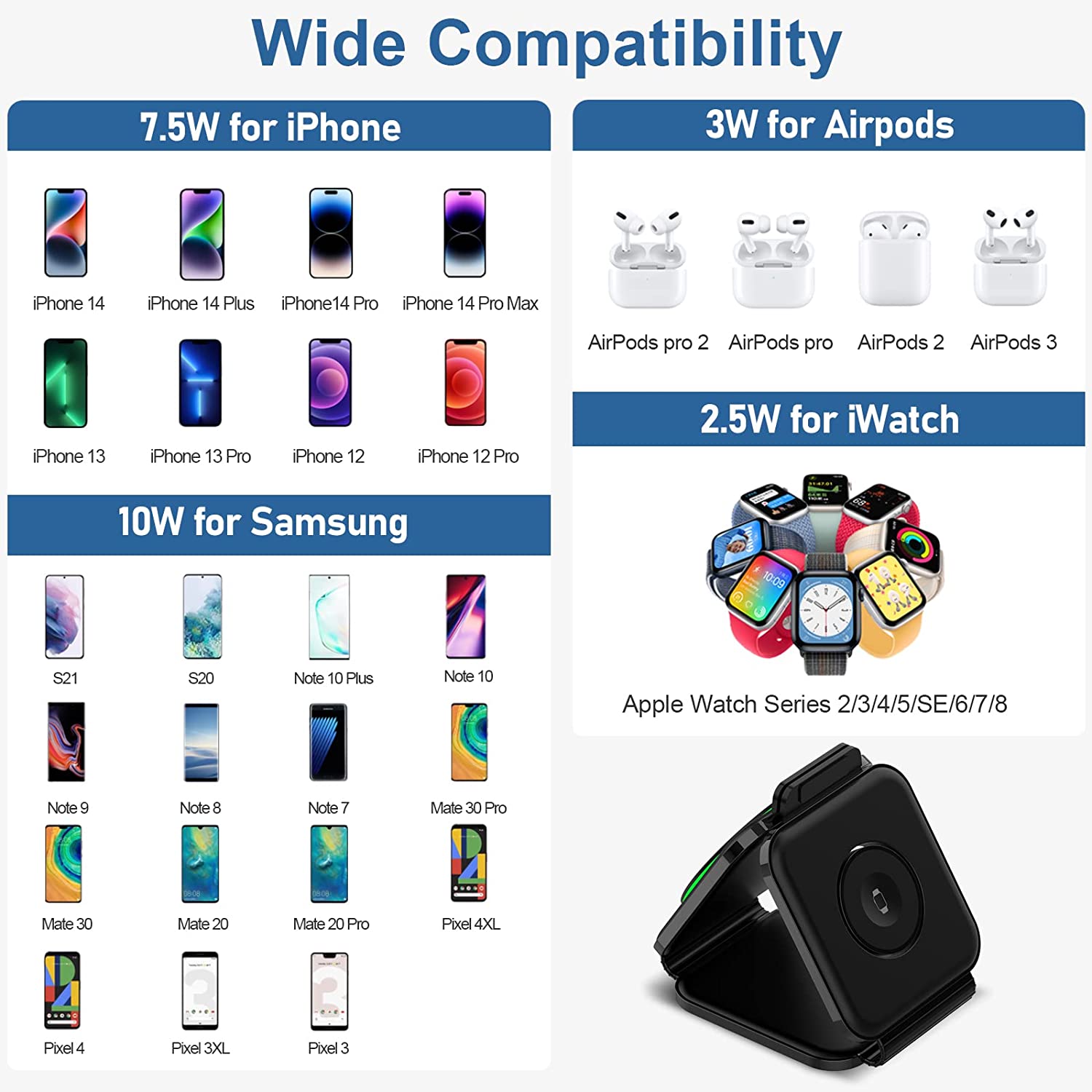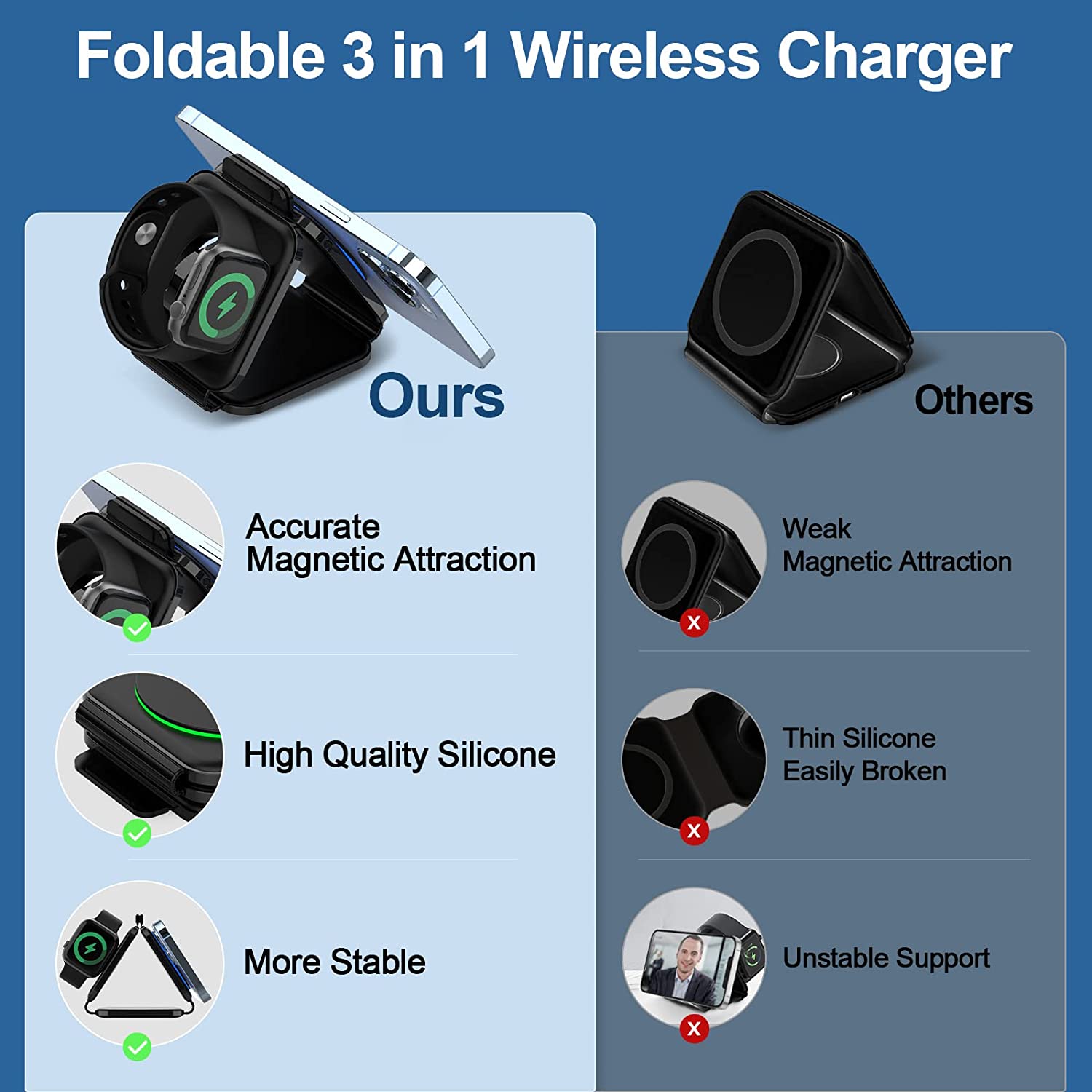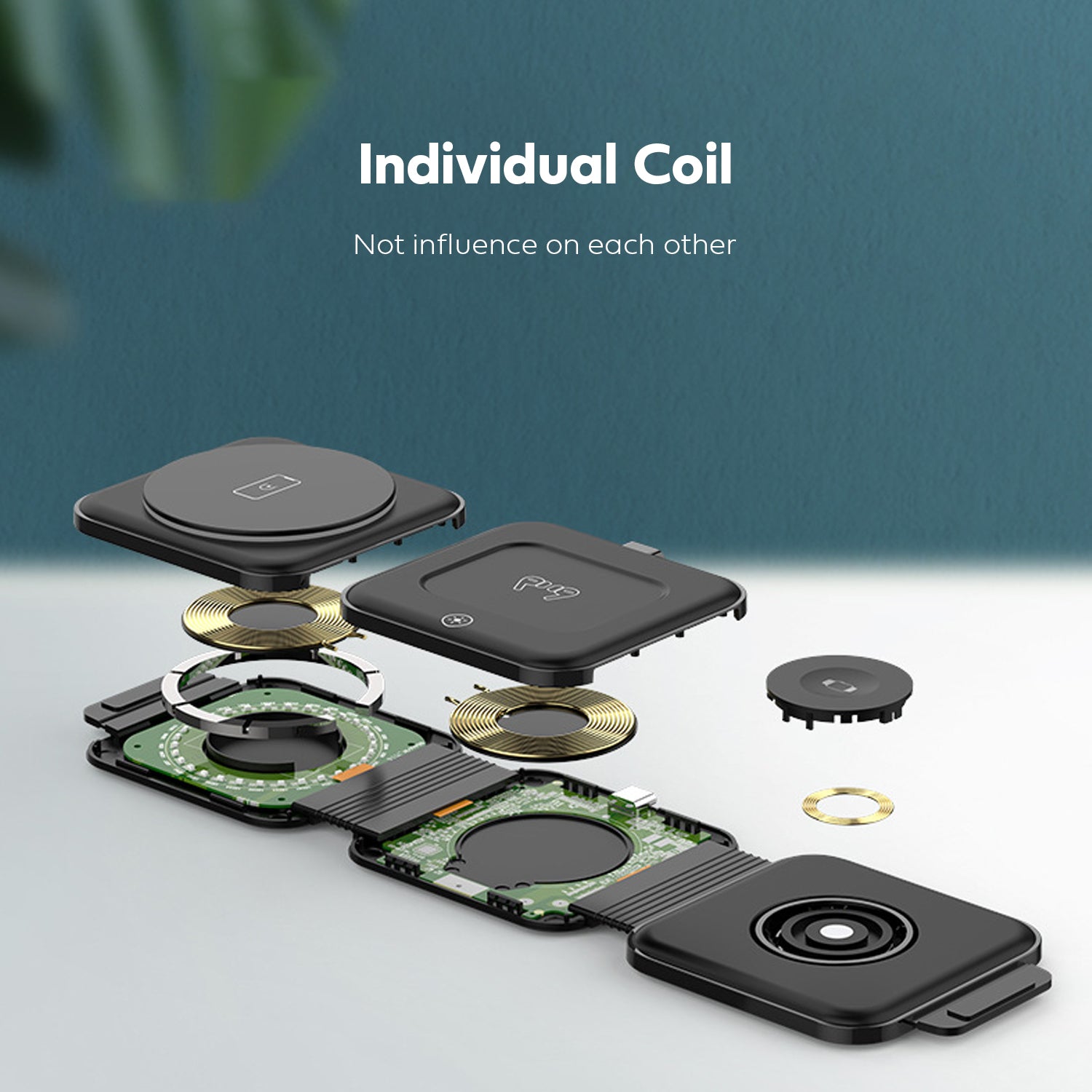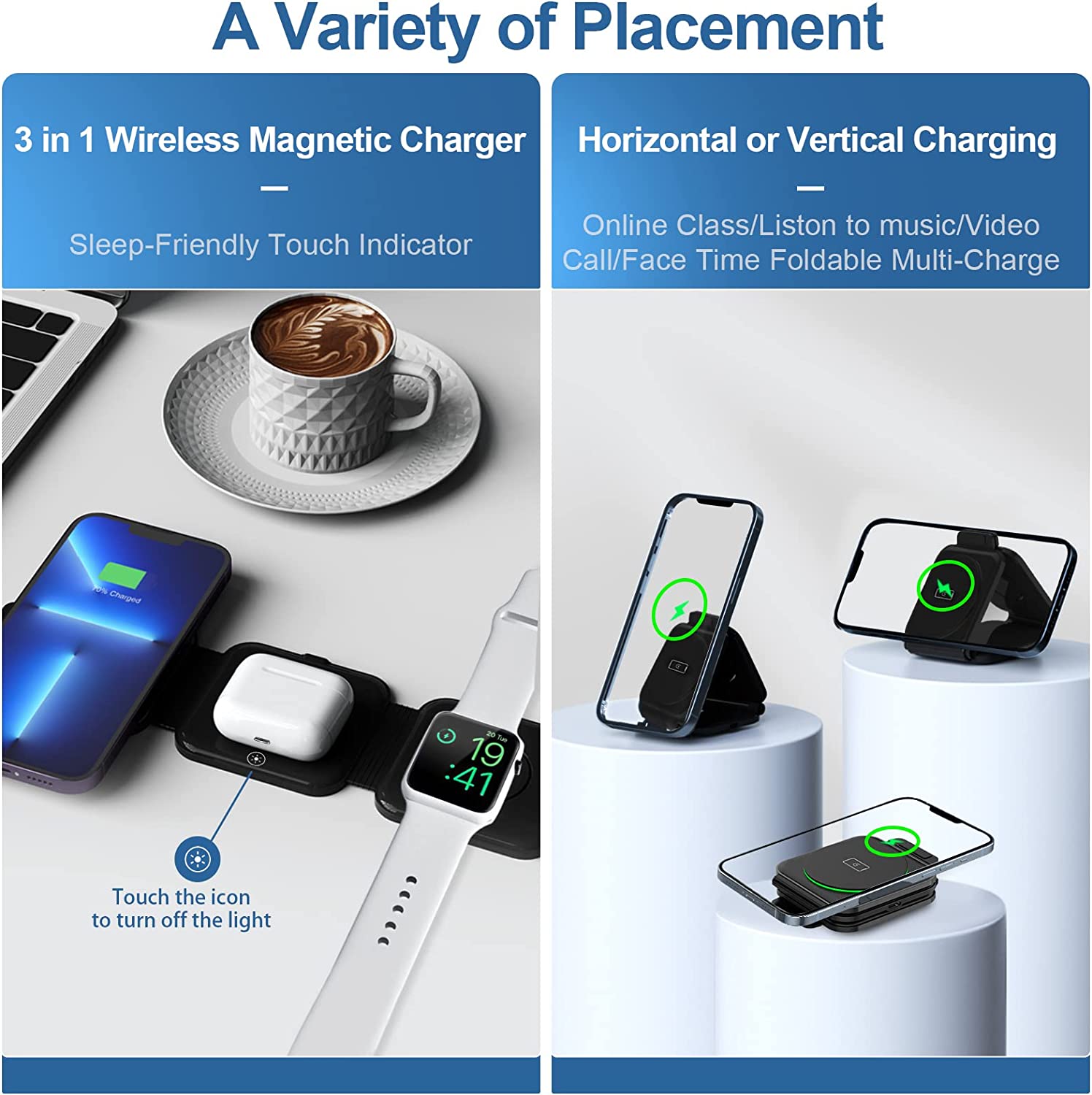 Foldable Wireless Charger 3-in-1 Magnetic Charging Pad
Whether You're At Home, In The Office, Or On The Road, Our Wireless Charging Pad Provides The Ultimate Charging Solution For Your Busy Life.

Special Feature: Foldable + Magnetic + Compact + Magsafe Compatible

Connector Type: Wireless, USB Type C

Item Weight: 207g

Color: Black

Multiple Power Output for Many Devices:


Phone: 15-Watts/10-Watts/7.5-Watts/5-Watts
Apple Watch: 2.5-Watts
AirPods/Buds: 3-Watts

3 in 1 wireless charging pad made for a fast charge for iPhones, Apple Watchs, and AirPods simultaneously. Maximum power of 15W exclusively for smartphone charging, 3W for Airpods charging, and 2.5W for iWatches charging.

The foldable wireless charger with strong magnetic suction can be folded 180° to quickly turn into a phone stand, the charging plate is covered with a magnetic suction device that firmly adsorbs your phone to place it horizontally for chatting or vertically for movie-watching.

Compatible with iPhone 14/13/12 series and more. Apple Watch Series 2, 3, 4, 5, SE, 6, 7, 8, Ultra (Samsung Watch not supported). AirPods pro, Airpods 2/3 [wireless charging version], and other Qi-enabled wireless earbuds. (Airpods 1 is not supported). Google Pixel 5, Samsung Galaxy S21+, S21 Ultra, S21, Note 20, 10 Plus 5G, Note 10 Plus, Note 10, S10 5G, S10 Plus, S10, S10e, Note 9, S9, and S9+. All other devices that support Qi wireless.

The safety protective 3 in 1 wireless charger does an amazing job of detecting excessive voltage risk and foreign objects, assuring 100% safety use for the elderly and children. Note: 5V 2A is the normal charging speed and cannot be used to charge multiple devices at the same time. We recommend using QC 2.0 / QC 3.0 fast charger adapter for stable charging.

To charge 3 devices at the same time with our wireless charging pad, it is recommended to use a fast charging adapter of at least 18W as the power input (Not included). To charge 3 devices at the same time, it is recommended to use a fast charging adapter of at least 20W as the power input (Not included).

Please note that the blue and green lights flash when foreign objects are detected while charging. Green is the default color when it's in standby mode. Note: Please use a phone case with a thickness of less than 0.15in.

In The Box


1x 3 in 1 Wireless Travel Charging Pad
1x User Manual
1x USB-C Cable

Compatible With:

Apple iPhones:

iPhone 14 Pro Max
iPhone 14 Pro
iPhone 14 Plus
iPhone 14
iPhone 13 Pro Max
iPhone 13 Pro
iPhone 13
iPhone 13 mini
iPhone 12 Pro Max
iPhone 12 Pro
iPhone 12
iPhone 11 Pro Max
iPhone 11 Pro
iPhone 11
iPhone SE 2nd Gen
iPhone XR
iPhone XS Max
iPhone XS
iPhone X
iPhone 8 Plus
iPhone 8

Apple Watch:

Apple Watch Ultra
Apple Watch Series 8
Apple Watch SE
Apple Watch Series 7
Apple Watch Series 6
Apple Watch Series 5
Apple Watch Series 4
Apple Watch Series 3
Apple Watch Series 2
Apple Watch Series 1

Apple AirPods:

Apple AirPods Pro 2
Apple AirPods 3rd Gen
Apple AirPods Pro
Apple AirPods 2nd Gen

***Compatible with various wireless devices except for Galaxy Watch and Samsung Earbuds.***

Troubleshooting Guidelines:
1. Update the device to its newest version.

2. Make sure your device supports wireless charging.

3. To charge 3 devices at the same time, it is recommended to use a fast charging adapter of at least 18W as the power input (not included).

4. Avoid high ambient temperature, optimal temperature is 82-86℉.

5. When the blue and green light flashes, indicating abnormal charging, please check whether there are foreign objects around.

7. If you encounter any other problems, please contact us as soon as possible! We are honored to solve your troubles!
Freight will be calculated at checkout
Estimated Delivery time=Processing time + Shipping Time
Return Policy

Free Returns for all order within Australia

Requirements:

1.Products must be returned within 40 days of the purchase date.
2.Products should be returned in their original packaging, unused,and undamaged.

This product has no reviews yet.