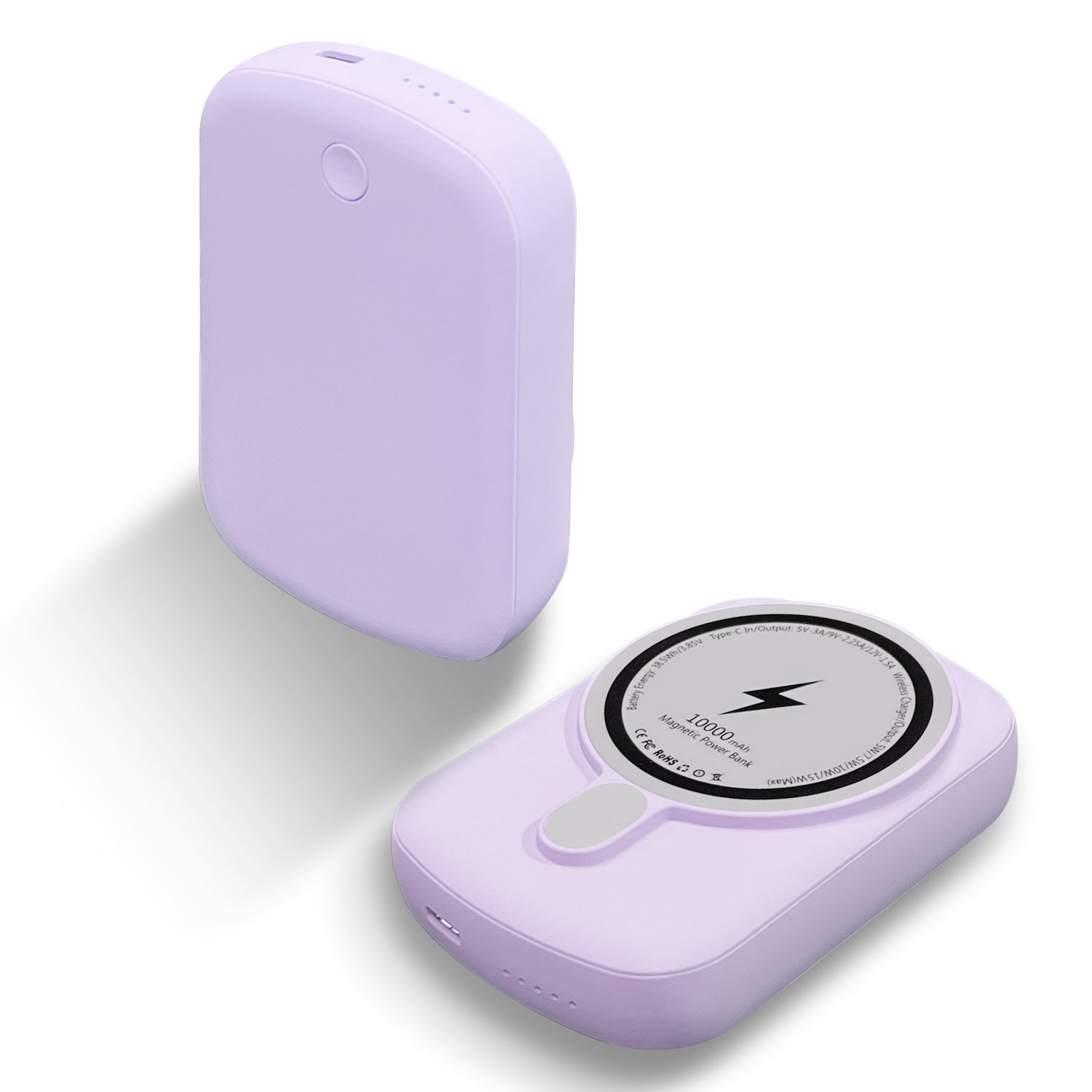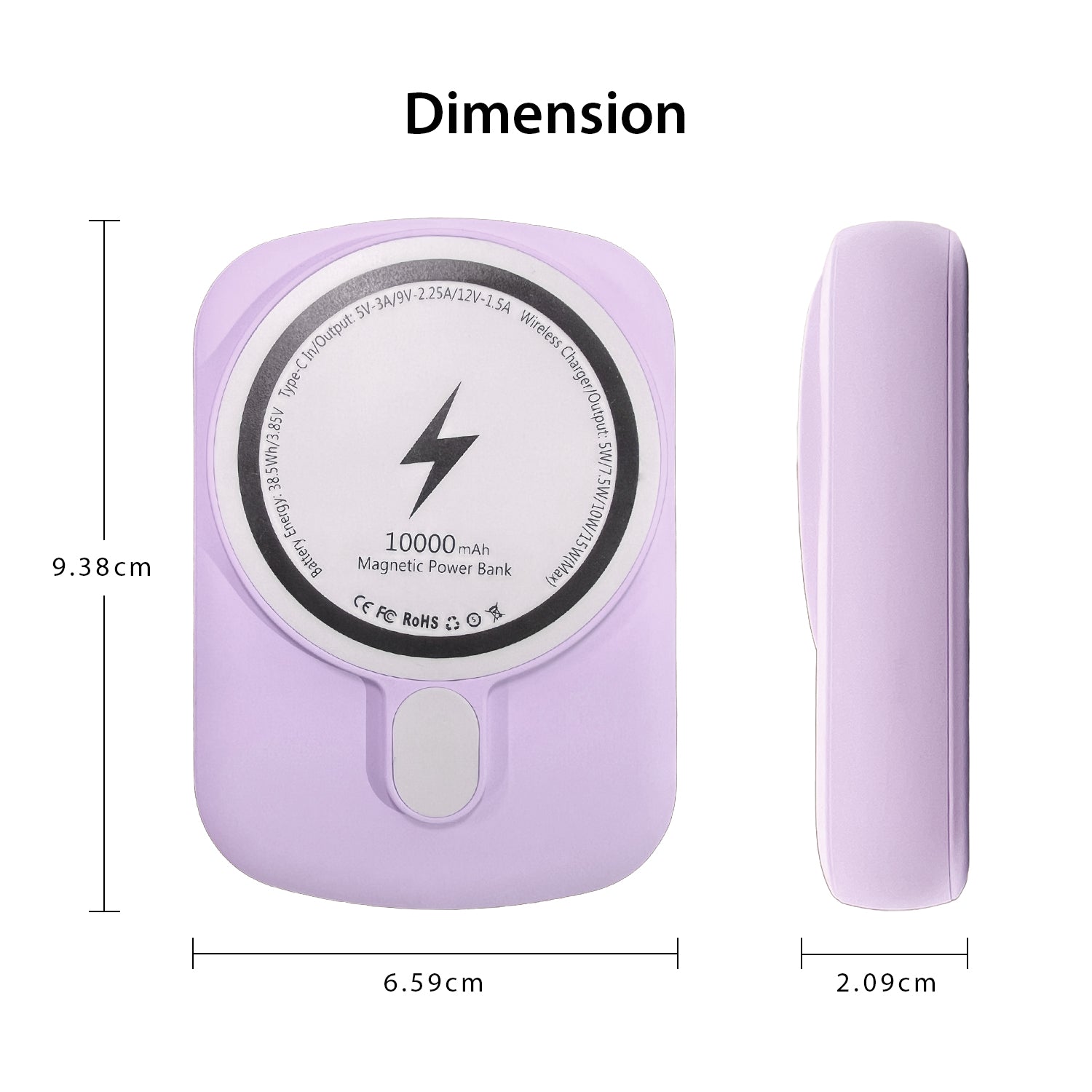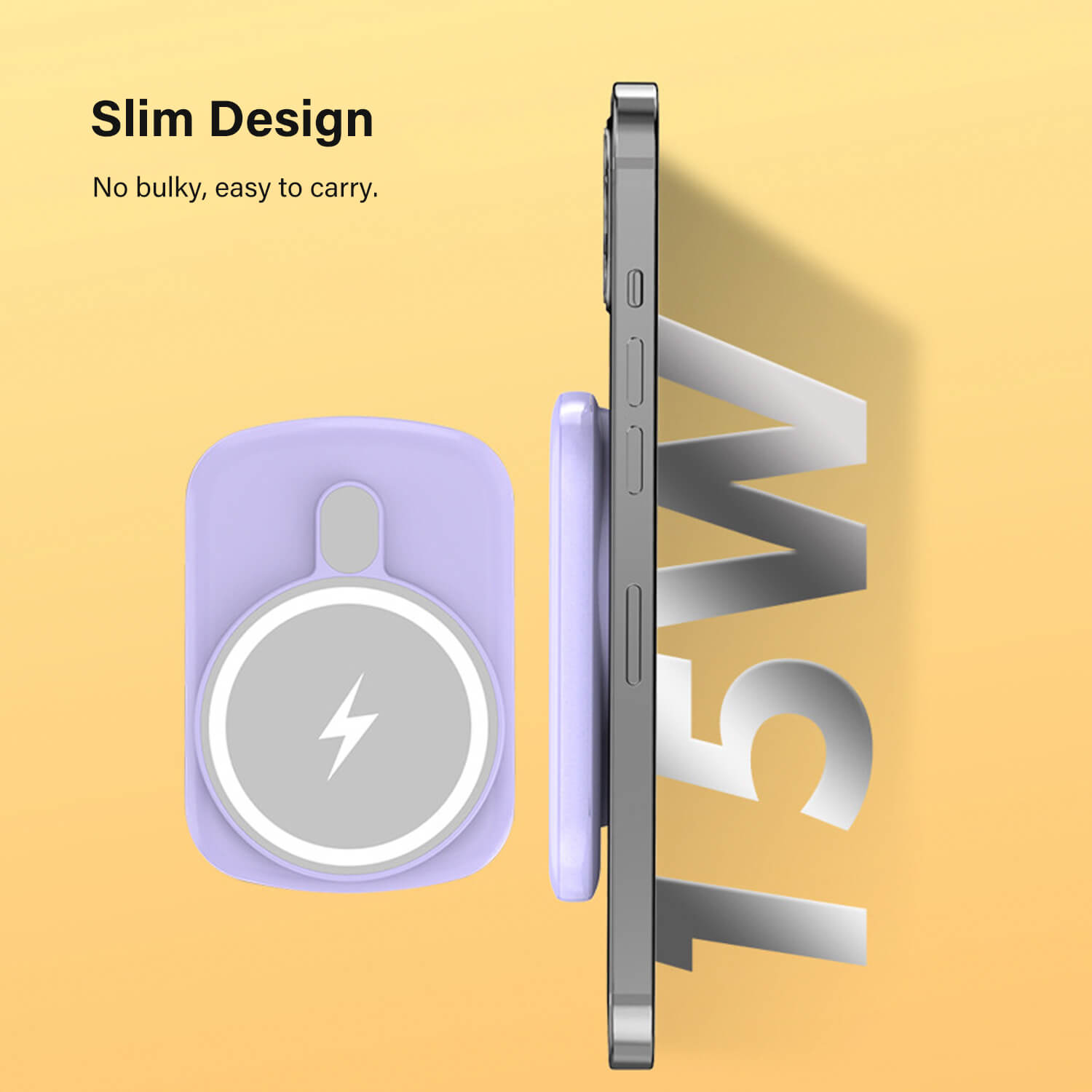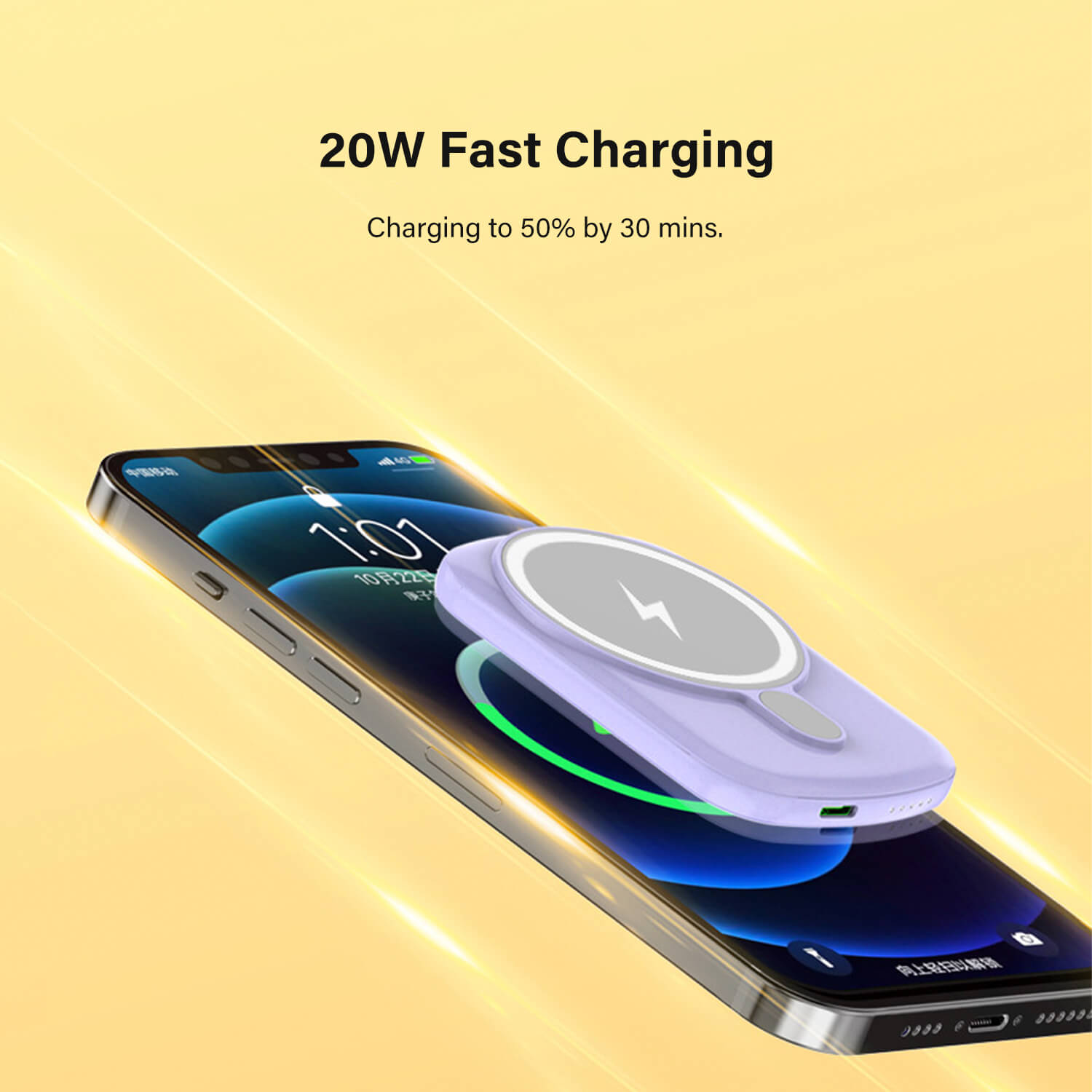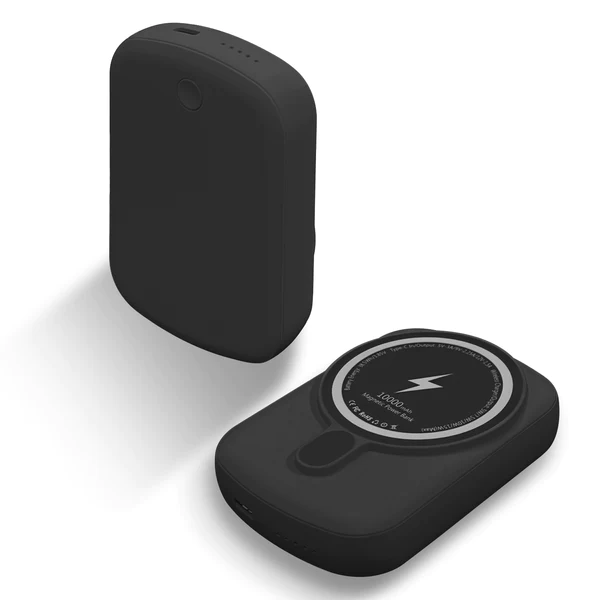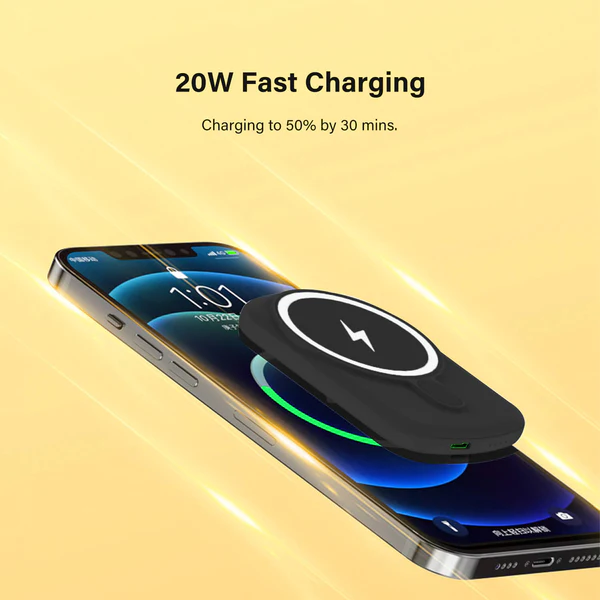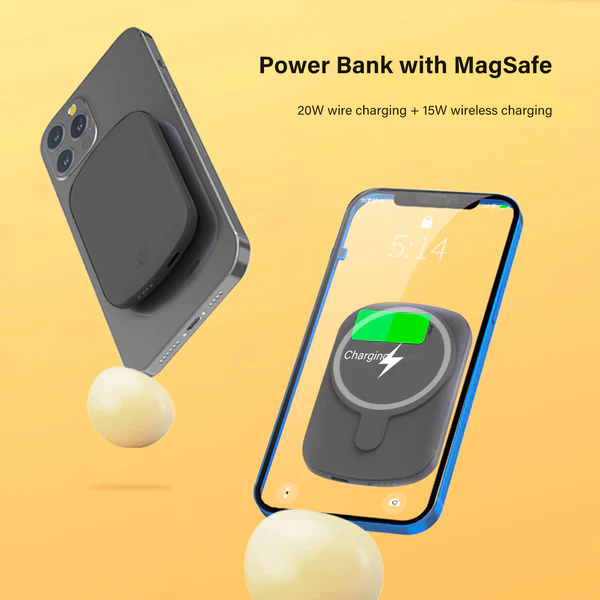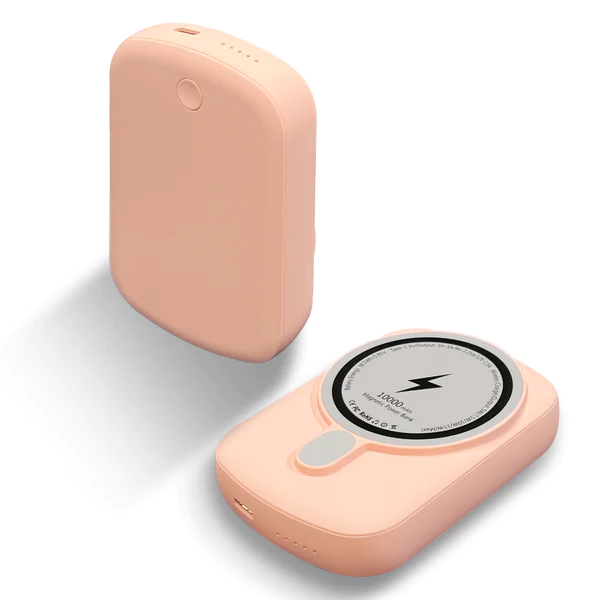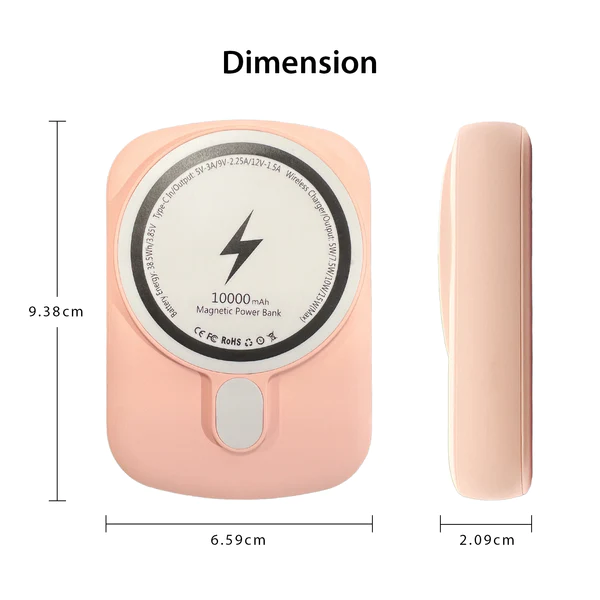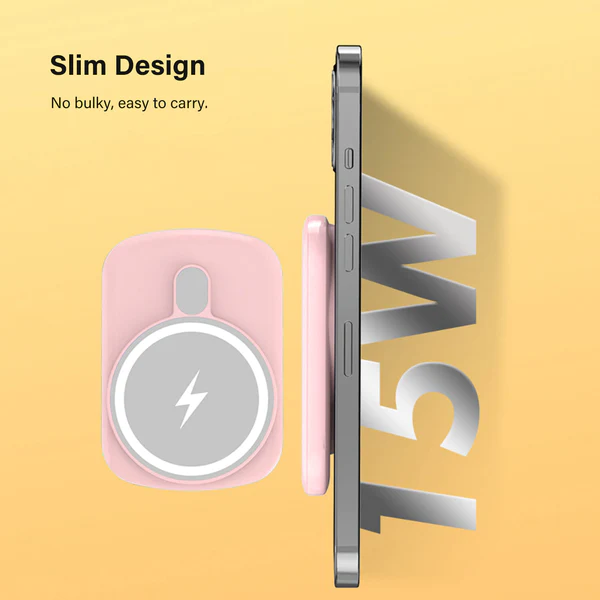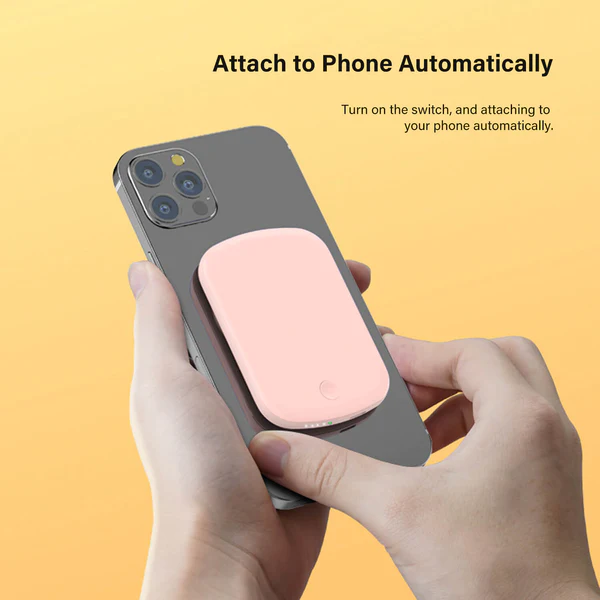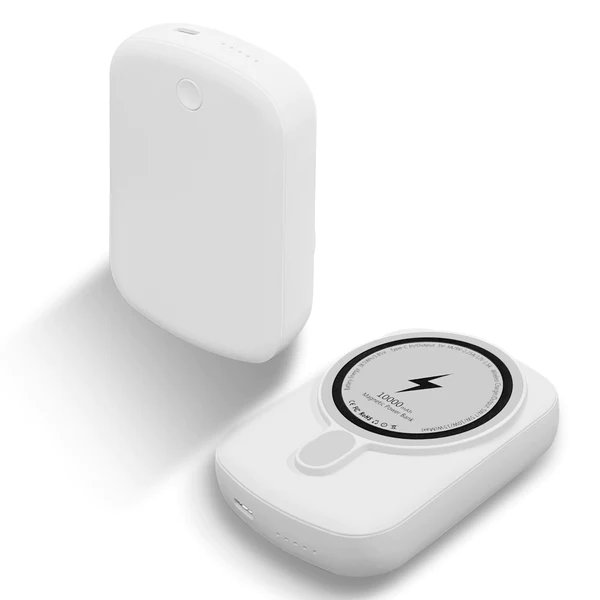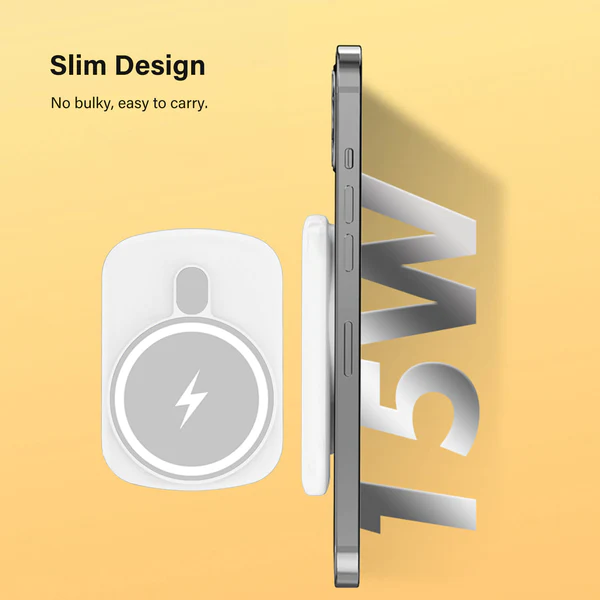 PTC Select Mini Magsafe Magnetic Wireless Portable 10000mAh 15W Fast Charger Power Bank
Brand: Tough On

Product Type: Power Bank

Compatible Device: iPhone 15 / 14 / 13 / 12 Series, all iOS and Android phones that support Qi standard wireless charging, including iPhone 8-11 series and Samsung Huawei. 

Features:

5W/7W/10W/15W magnetic wireless quick charging
Quick charging + wireless + magnetic suction 3 in 1
PD + QC 20W quick charging
Sync input and output for portable charging
Accurate LED power indicators
High-quality safe polymer battery

Packing details:

Power Bank * 1
Manual Guide * 1
Type-C charging guide * 1

Dimension:

9.38cm(L) * 6.59cm(W) * 2.09(H)

Notes and Warnings


If this device is not used for a long time, please charge it at least every 3 months
It might produce light heat during charging, which is normal as long as it's below 55

℃

Always keep this device dry and do not clean it with chemical agents

About this item

The magnetic power bank can auto-lock iPhone 15/14/13/12's charge area and then start efficient wireless charging. Built-in powerful N50 magnet ring will suction up your phone firmly without falling even when you're running.

This portable power bank is specially designed for iPhone 15/14/13/12 series, with max 15W magnetic wireless charging for iPhone 15/14/13/12, iPhone 15/14/13/12 Pro, iPhone 15/14 Plus, and iPhone 13/12 Mini, and iPhone 15/14/13/12 Pro Max.

Only compatible with official/third-party MagSafe cases. It can also be wired to charge your other devices like iPhone X, iPad, Samsung, etc., through output ports.

The 10,000mAh capacity mag-safe power bank can provide 2.25 charges for iPhone, 1.6 charges for Galaxy, and 1.2 charges for iPad.

Weighing just 189g and only 17mm thick, the slim size easily slips it into any of your pockets or bags, great for vacation or business trips.

The built-in intelligent safety system ensures complete protection for you and your devices, including over-heat, over-charge, over-current, over-discharge, and short-circuit protection.

The LCD battery display will display the remaining power and charging status to meet different user needs.

all iOS and Android phones that support Qi standard wireless charging, including iPhone 8-11 series and Samsung Huawei. (Note: Must be used with a magnetic Mag-safe phone case!

This mobile power bank has a built-in powerful alignment magnet, which can make your phone perfectly fit and align the charging area, giving you a stable charging experience.

15W Wireless Fast Charging

This Mag-safe wireless charger mobile power can be used for iPhone 15/14/13/12 Series fast charging at 15W. Built-in high-end Qi wireless charging smart chip, the wireless charging stand can intelligently identify mobile phones and quickly charge.

Powerful Magnetic Suction

Our MagSafe battery pack contains a strong circular magnet in front of the charging coil to ensure the battery pack remains in place while on the go. The battery pack is designed to stay fully attached to your iPhone or case even with significant movement.

No Need to Remove Your Case

Attach the battery pack directly to your iPhone 15/14/13/12 Series existing case. Our battery pack is fully compatible with any case that is under 6mm in thickness with our powerful magnetic suction. There's no need to remove your existing case and lose that extra layer of protection!  

Smart Chip Technology

Our battery packs built-in smart chips ensure that you can recharge your device confidently and safely. The smart chips prevent overcharging and overheating to any of your devices. 

Safer And Easier To Use

Exclusive Multifunctional Intelligent Protect Technology provides temperature control, surge protection, and short-circuit prevention. Besides that, this wireless charger is Qi-certified, and you can purchase it at assurance.

Double guarantee and dual safety provide you safety experience. And it is compatible with all official phone cases, Carrying a phone case will not affect the charging experience of the phone. 
Freight will be calculated at checkout
Estimated Delivery time=Processing time + Shipping Time
Return Policy

Free Returns for all order within Australia

Requirements:

1.Products must be returned within 40 days of the purchase date.
2.Products should be returned in their original packaging, unused,and undamaged.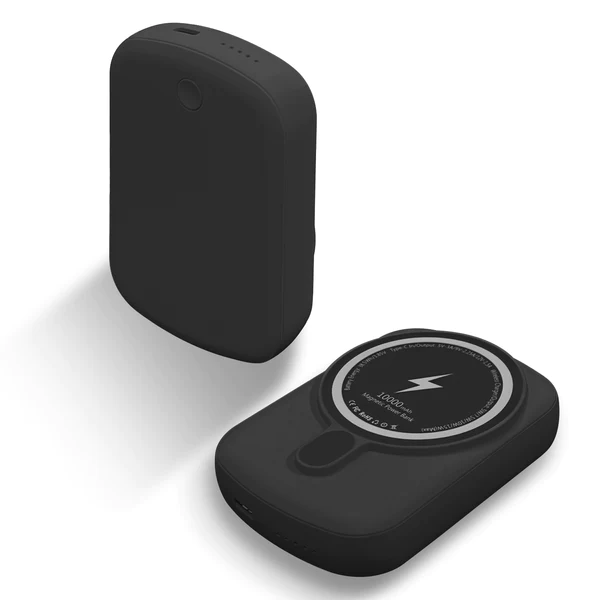 This product has no reviews yet.